Creativity Economy Creative Industries Culture Innovation Design Collaboration
Creative economy is a model of economic growth that synergistically combines culture and technology. Therefore, it includes all expansions of culture.
Internationalization
IEU+KREA works for adding value on city branding and commercial, cultural branding on CCIs.
Creative Economy
We work for economic power of CCIs and developing toolkits for creative and cultural economic value measurement.
Research & Application
We work to discover recent potencial of CCIs and adding value by sufficient applications in the research field.
Collaborations
We believe in collaboration in competitiveness which means eager to work for better.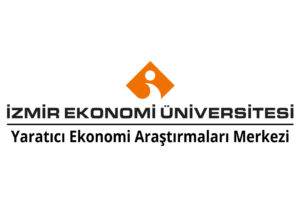 Project Design
As a collaboration and internationalization tool, projects are must. So, project designing is another action we love to moderate.
Creative Entrepreneurship
IEU+KREA focuses on the gap between entrepreneurship and innovation in its' researches. How to rise funding options in CCIs? This is another question we are working on.
Consulting
We support national and international knowledge transfer in CCIs sector for better.
Strategy & Foresight
How to choose right strategy? What are the senarios CCIs sector stakeholders must consider?
IEU + KREA Journal of Creative Economics Research, Assoc. Under the guest editor of Doç.Dr.Güzden Varunluoğlu, she focuses on places and characters that work for the creative industries and remain hidden.
Creative Business Cup Turkey 2021 will take its digital place on 06.05.2021.
IEU + KREA Journal of Creative Economics Studies supports Kemeralti's UNESCO nomination process. Kemeraltı-UNESCO special issue of our journal Assoc. Doç.Dr. Elif Kocabıyık continues her preparations as guest editor.