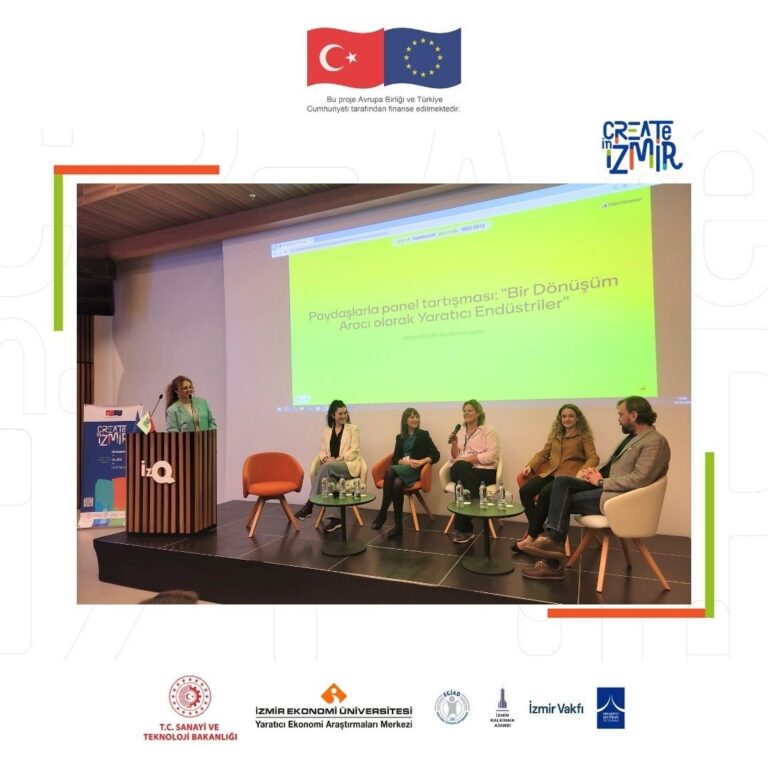 Izmir Met with Representatives from 7 Cities !
The meta-physical hub model for Create in Izmir, the Cultural and Creative Industrial Hub, was developed through a collaborative workshop with collective contributions. Over two days, stakeholder meetings and five different focus group discussions laid the foundations for collaboration among representatives from manufacturing, industry, tourism, and the creative industry.
The workshop, held on October 25-26, 2023, began with opening remarks from İzmir Ekonomi University Rector Prof. Dr. Hakan Abacıoğlu and Vice Rector Prof. Dr. Aslı Ceylan Öner. Following the opening, detailed information about the project and the event was presented by Project Team Leader Tomas Černevičius, Director of the Creative Economy and R&D Center at İzmir Ekonomi University, Create in Izmir ERA representative, PhD. Sevay Ipek AYDIN, and Key Expert Emir Džanić, Ph.D.
Prof. Dr. Rūta Valušytė, Director of the Design Center at Kaunas University of Technology and Member of the Lithuanian Design Council, highlighted a different approach to the concept of design in her keynote speech. Assoc. Prof. Dr. Lorenzo Piazzi contributed insights into the digital library project and other country applications. The long-term creative mission was further inspired by Laura Martelloni and Dario Marmo, members of the project's international team, through their online participation.
Throughout the two days, focus group discussions continued, and during the closing panel of the meeting, perspectives on the transformative role of creative industries were exchanged, evaluating the comments of panelists from the Izmir perspective. The closing panel featured the following influential figures from the industry:
Turusan Çiner – IDEART Agency and President of the Izmir Advertising Association, Izmir Chamber of Commerce Assembly Member
MINE GUNES KAYA, EMBA – Director of Tourism at Izmir Chamber of Commerce, President of the International Federation for Information Technologies and Travel & Tourism (IFITT) Turkey Chapter
Ceren Umay – Head of Culture and Art Department at Izmir Metropolitan Municipality
Zeynep Arda – Faculty of Fine Arts and Design at IEU, Visual Communication Design
Begüm ACAR – Method Engineer / Design Center Responsible
Our experts are now returning to the kitchen, preparing to report on the valuable outcomes of this work. Stay tuned…